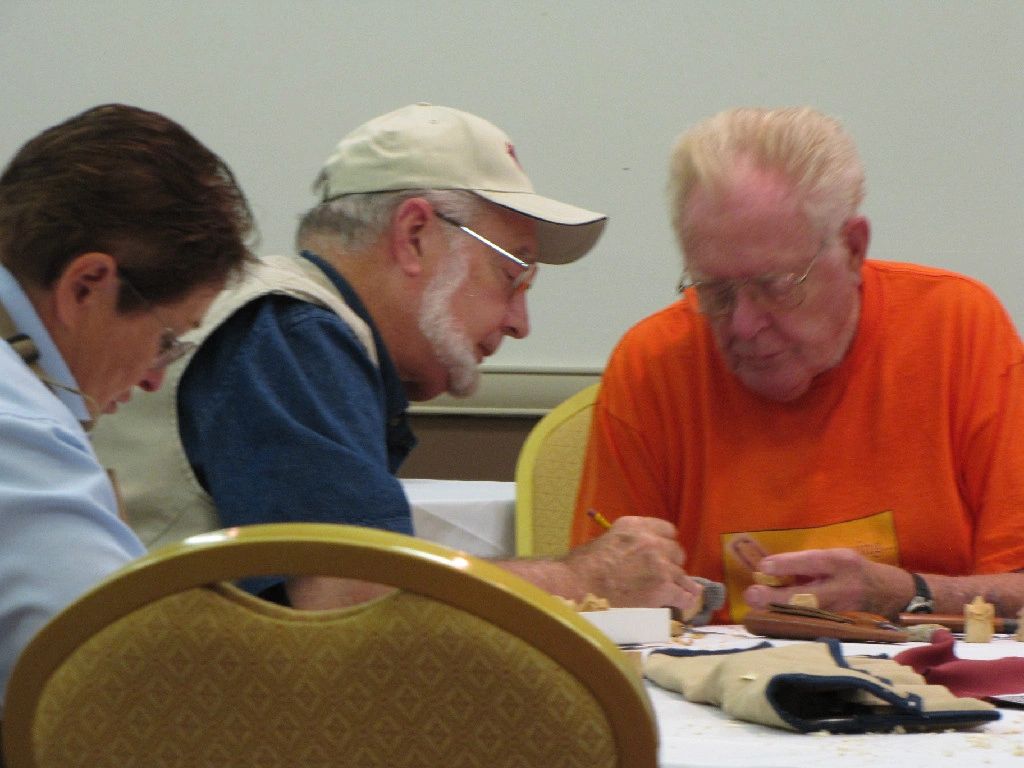 Gene Fuller teaching a bottle stopper class. Don Brigham learning from Don Mertz, a CCA member.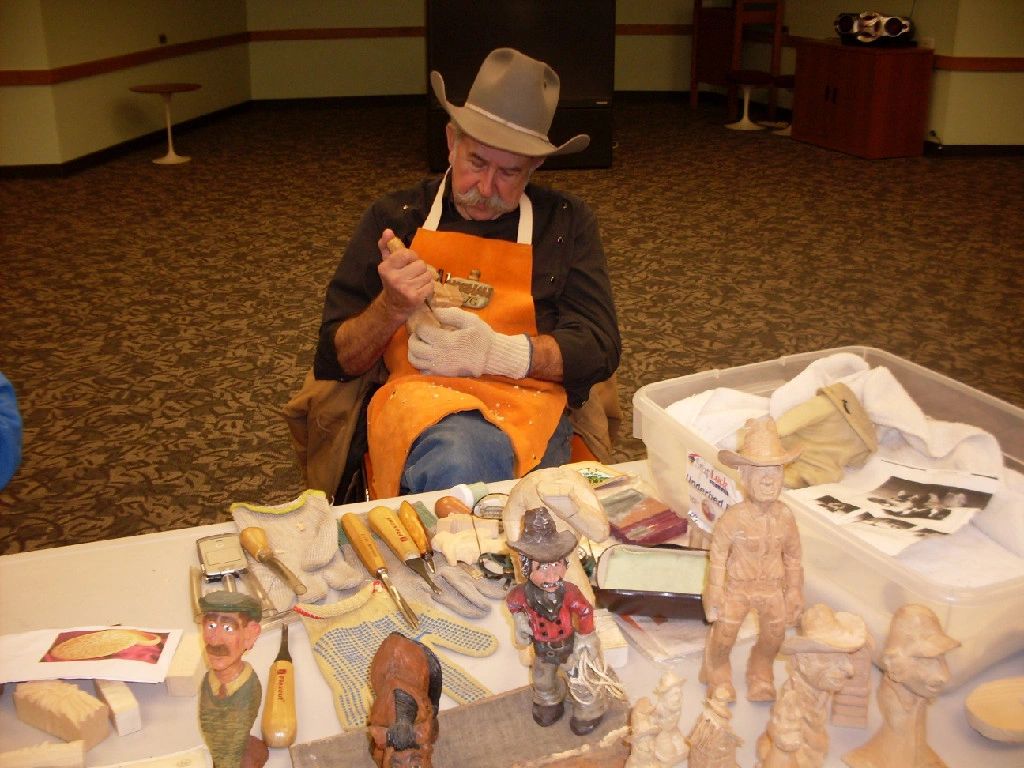 Dale Parsons and Steve Moreno. Norm Sullivan John and Carolyn Greener in Chris Hammack's class.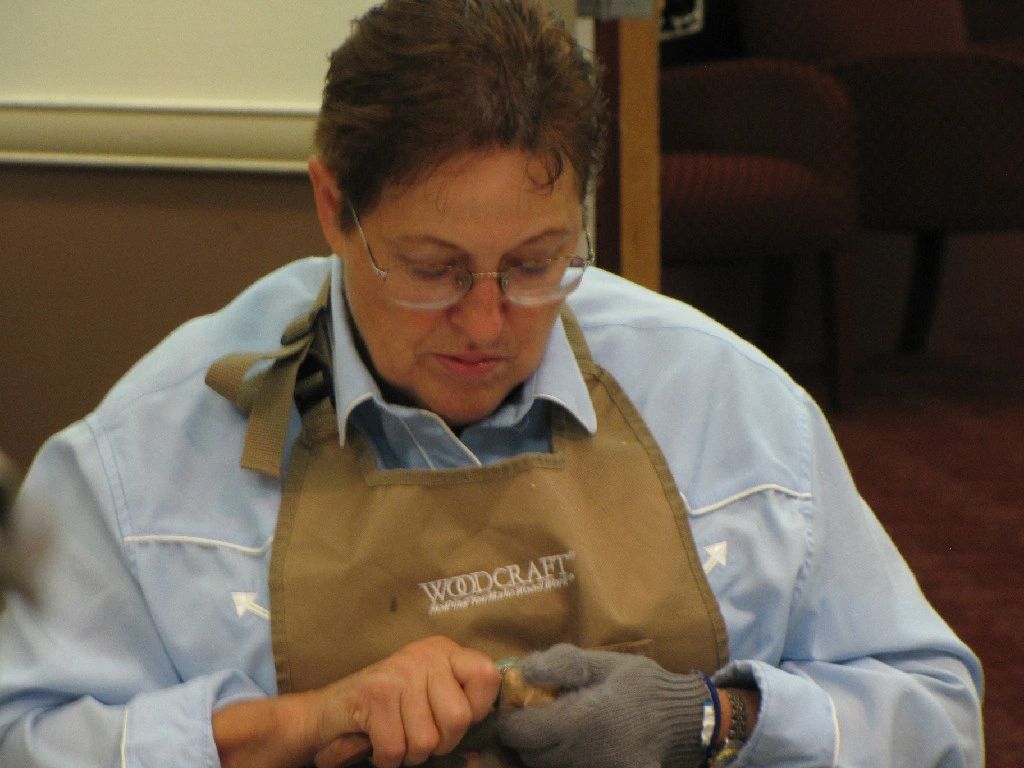 Don Brigham receives a Lifetime Membership Jane Eubanks Amy Linkert
in the Idaho Woodcarvers Guild.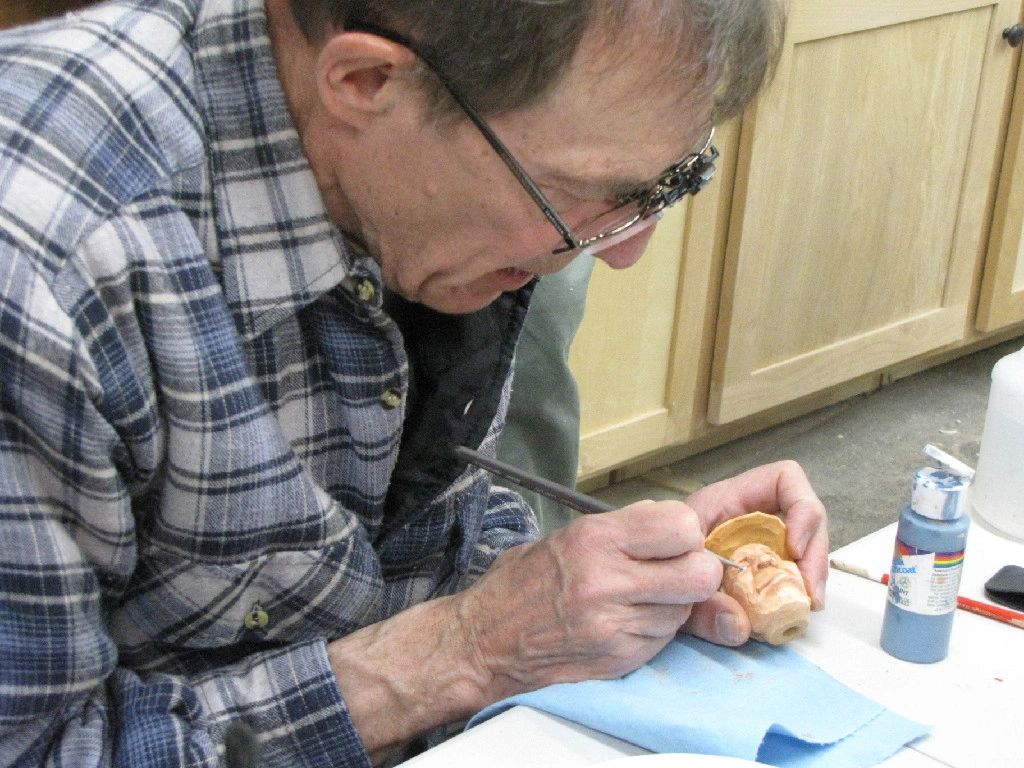 Eric Owens carving at Dry Creek. Gene Fuller painting his bottle stopper.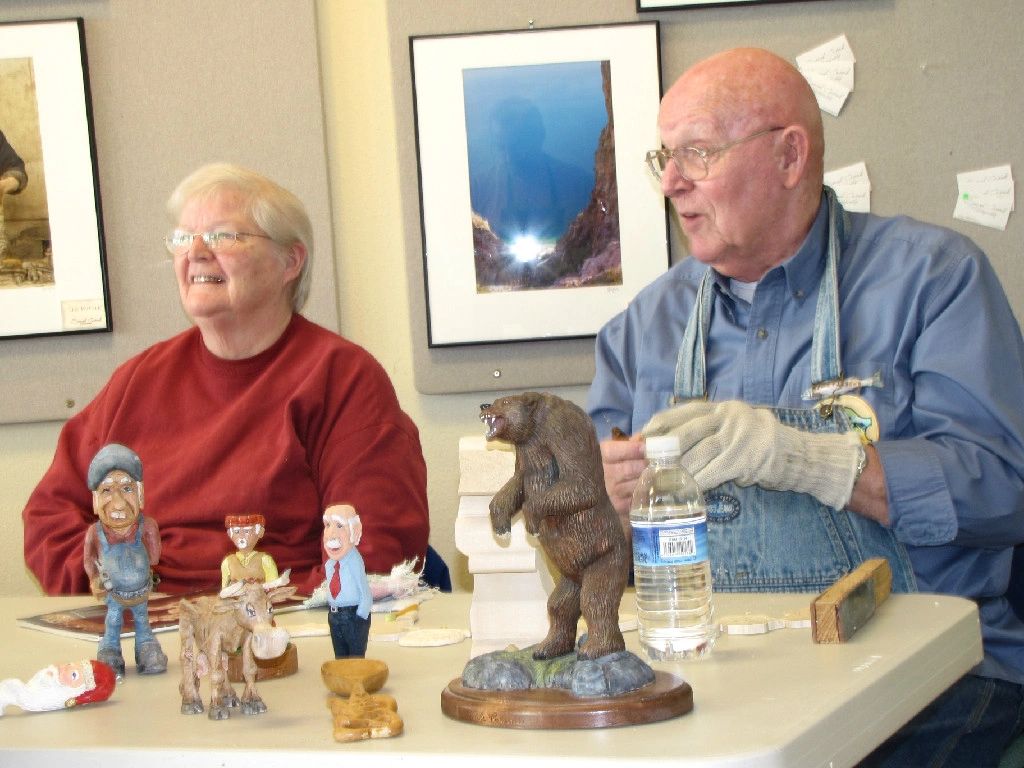 Dale Parsons and Kay Viste at the Meridian library. Native American halibut bowl that Carolyn Greener taught
us how to carve.
The Native American seal bowl Carolyn carved. Carolyn enjoys telling stories; this one is about
her Native American mask.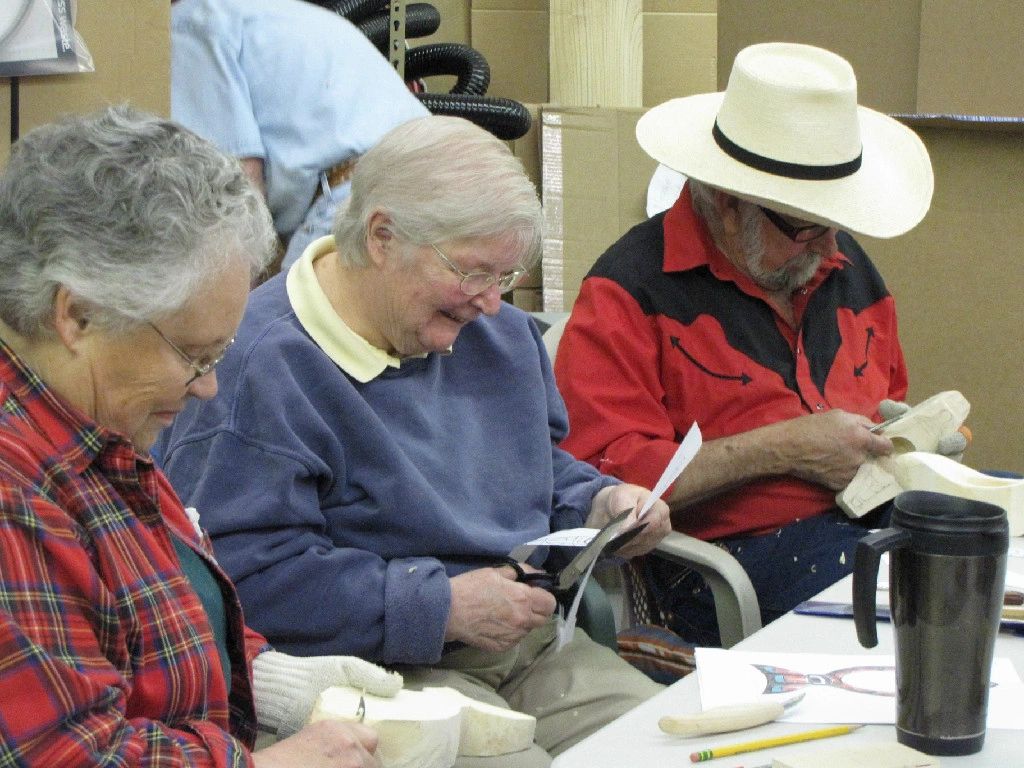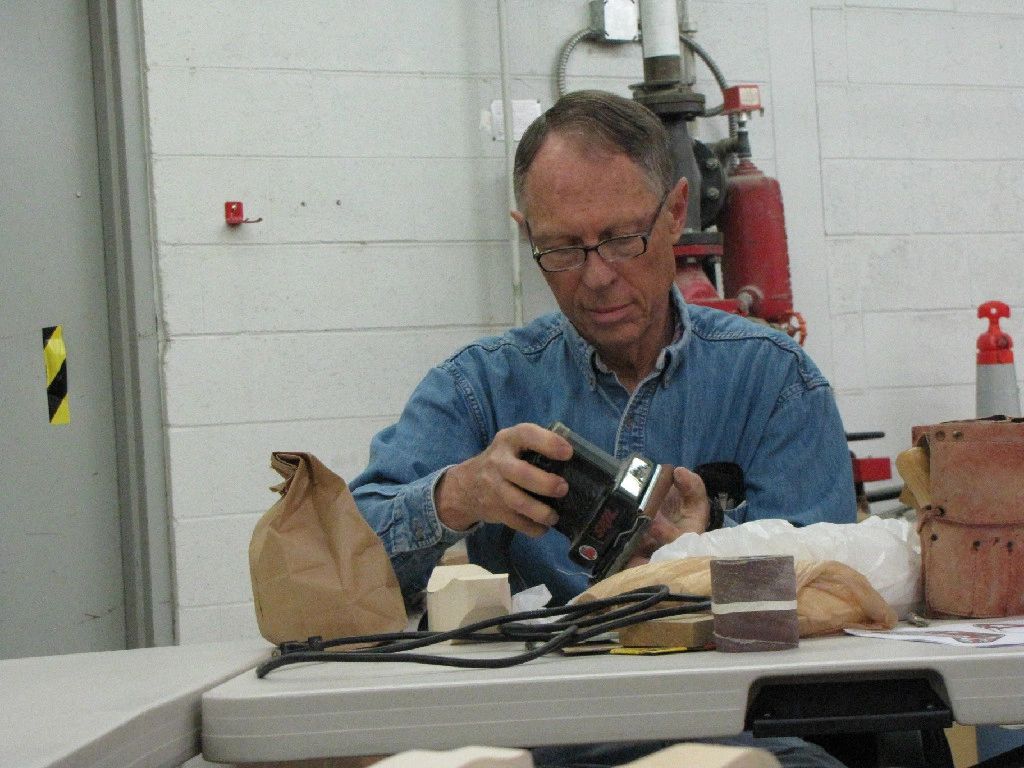 This trio looks like they are having fun. From L-R: Doug Rose sure enjoys carving.
(Jane Eubanks, Kay Viste and Norm Sullivan)
Norm is working on his Civil War carving in Dave Stetson's class. amy is working on her project in the Stetson class.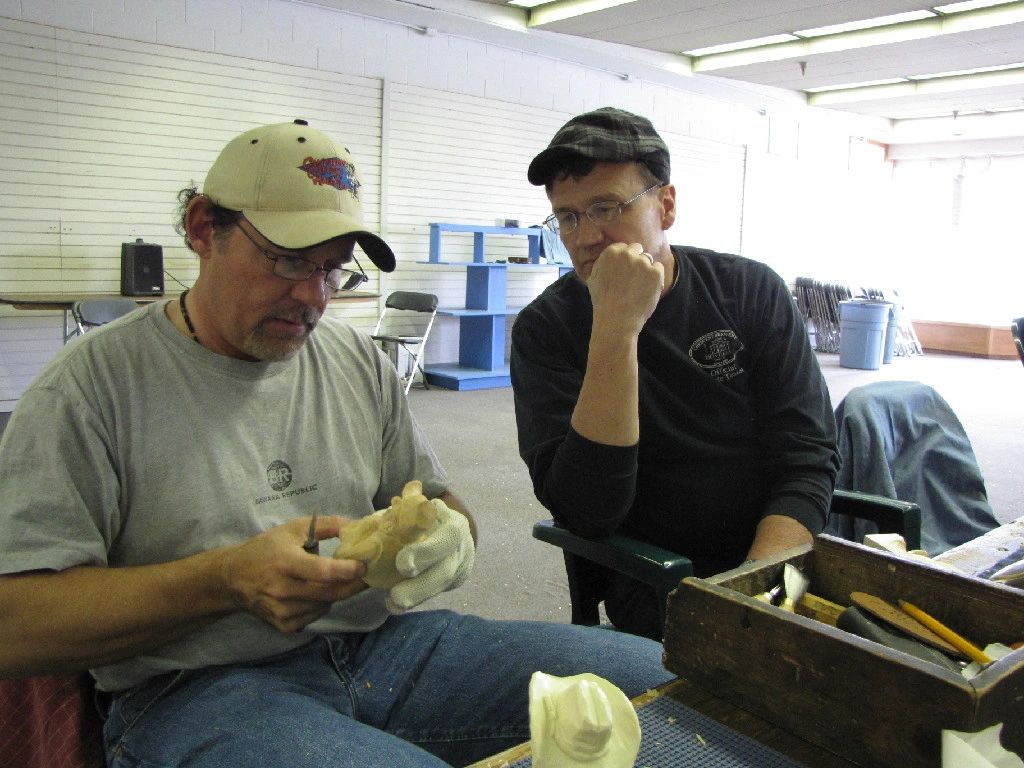 Rick Jensen instructing in the bark carving class. John Greener is interested in Chris Hammack's instruction.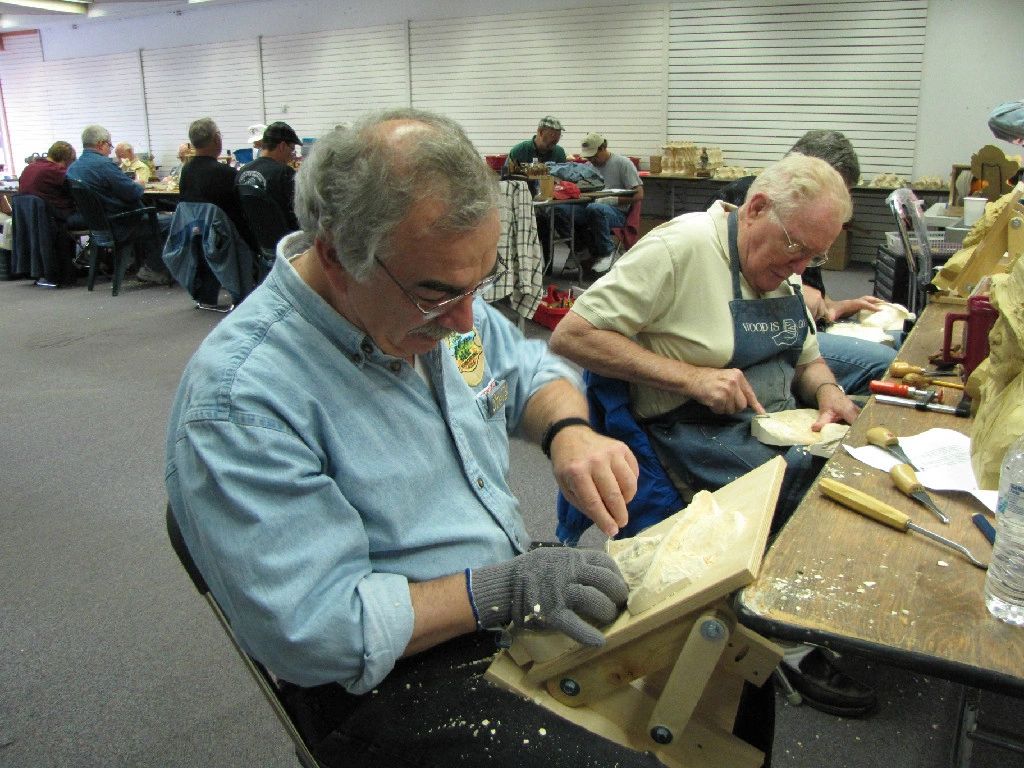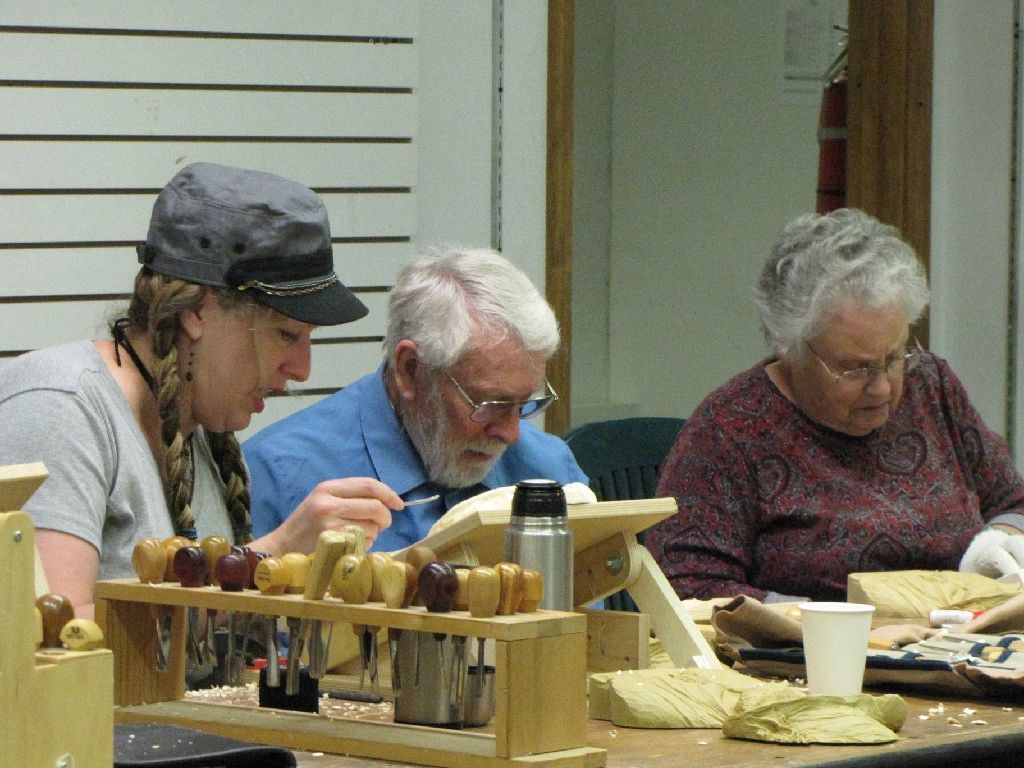 Steve Moreno is carving low relief in Rick Harney's class. This trio of characters (R-L, Carolyn Greener, Bob Rudkin
and Jane Eubanks) enjoy camaraderie in Harney's class.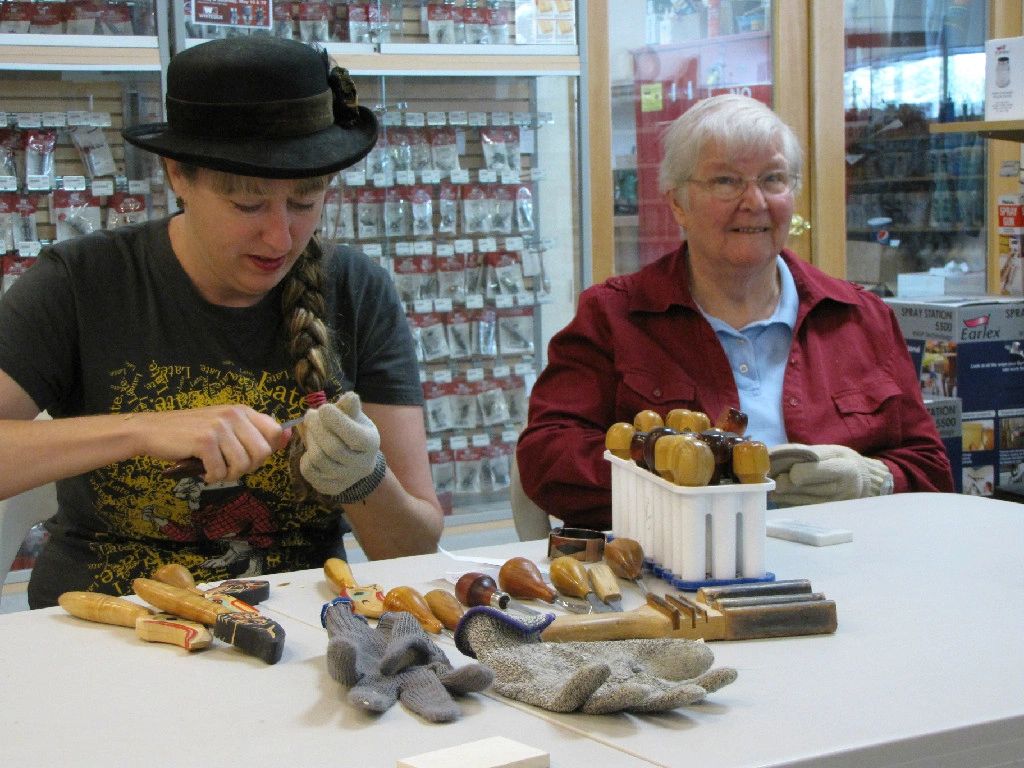 Cleve Taylor carving relief in Rick Harney's class. Carolyn Greener and Kay Viste demonstrating name tags at
Woodcraft.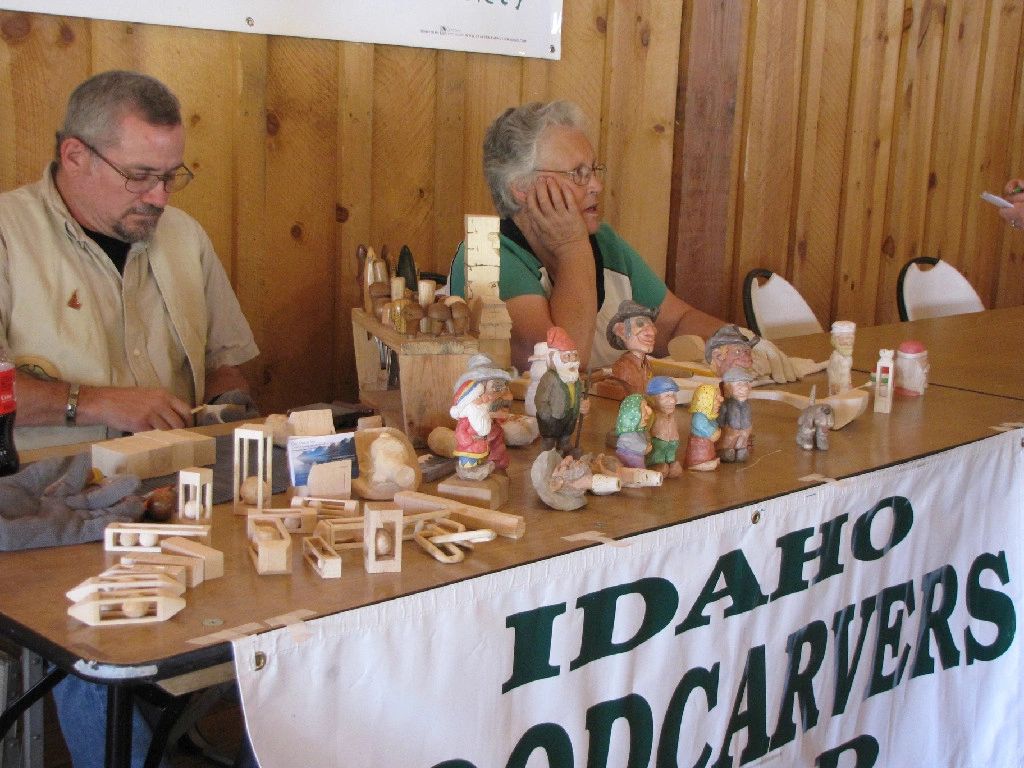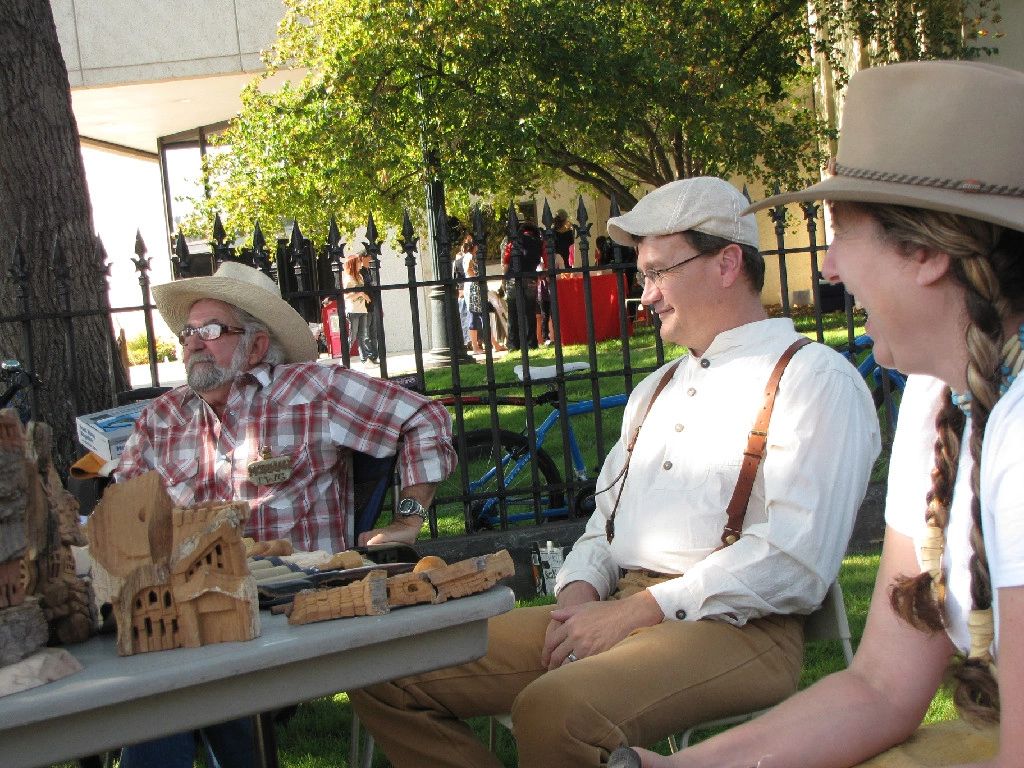 Eric and Jane at Dry Creek Farm Days. John and Carolyn Greener and Norm Sullivan at the Museum
Comes to Life event at the Idaho State Historical Museum.
Dour Rose carving at the Museum Comes to Life event.
Doug telling us about his cutting board carving. Doug Rose
Doug's cutting board carving. See the slice of the apple? Dale Parsons is proud of his dog carving. Nice job!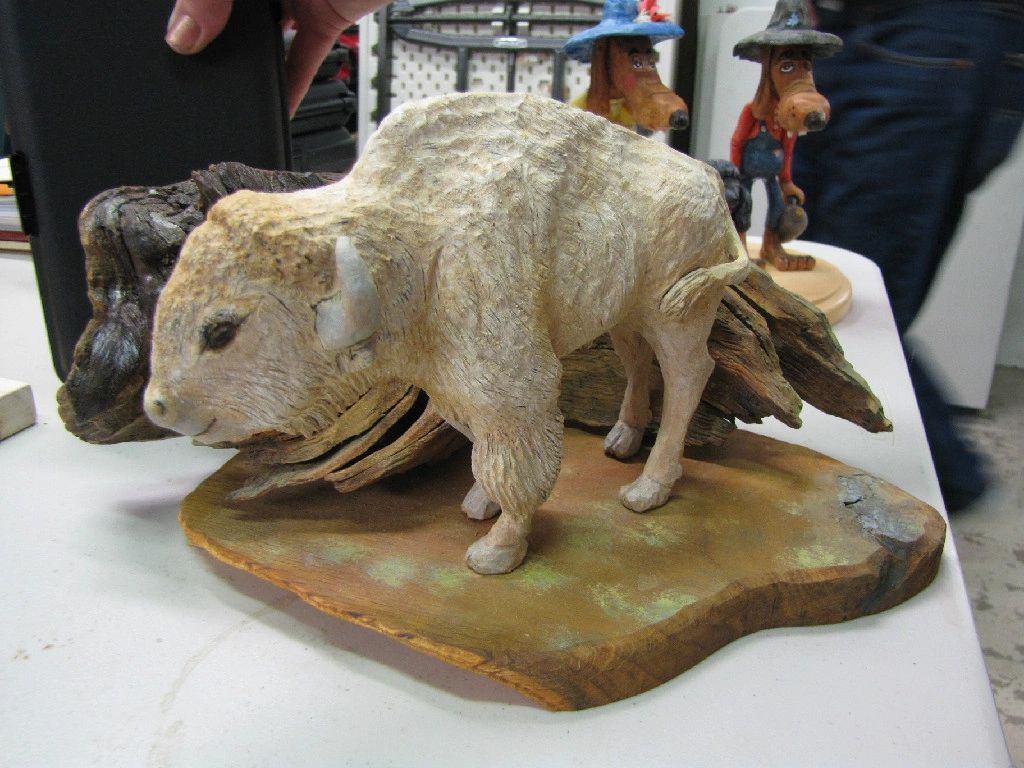 Amy Linkert's White Buffalo carving Amy explains how she rendered her white buffalo carving.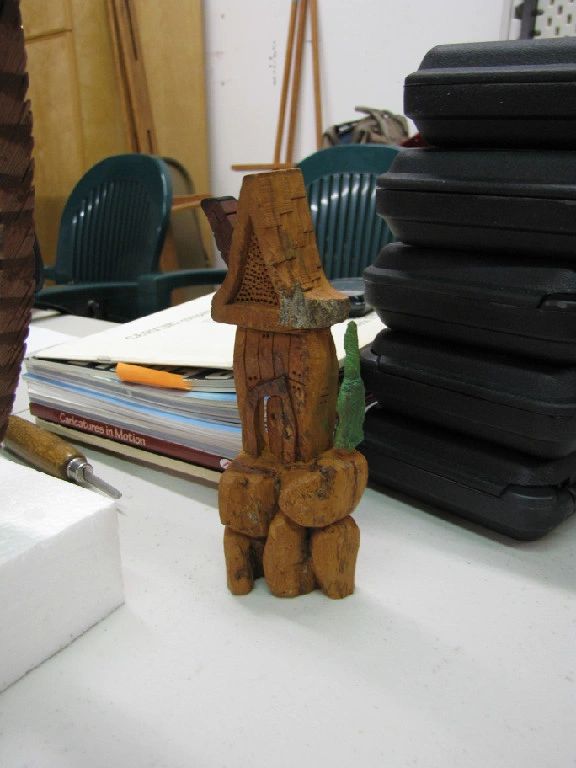 Carolyn Greener explains her feather carving. One of Beck Beus' bark houses.
Can you tell which one is the real feather?
Jane and Eric carving at Dry Creek Farm Days.
John Greener carving at the Memorial Day Jamboree.
Doug teaching his bird class at the Jamboree.
2014 Idaho Artistry in Wood pictures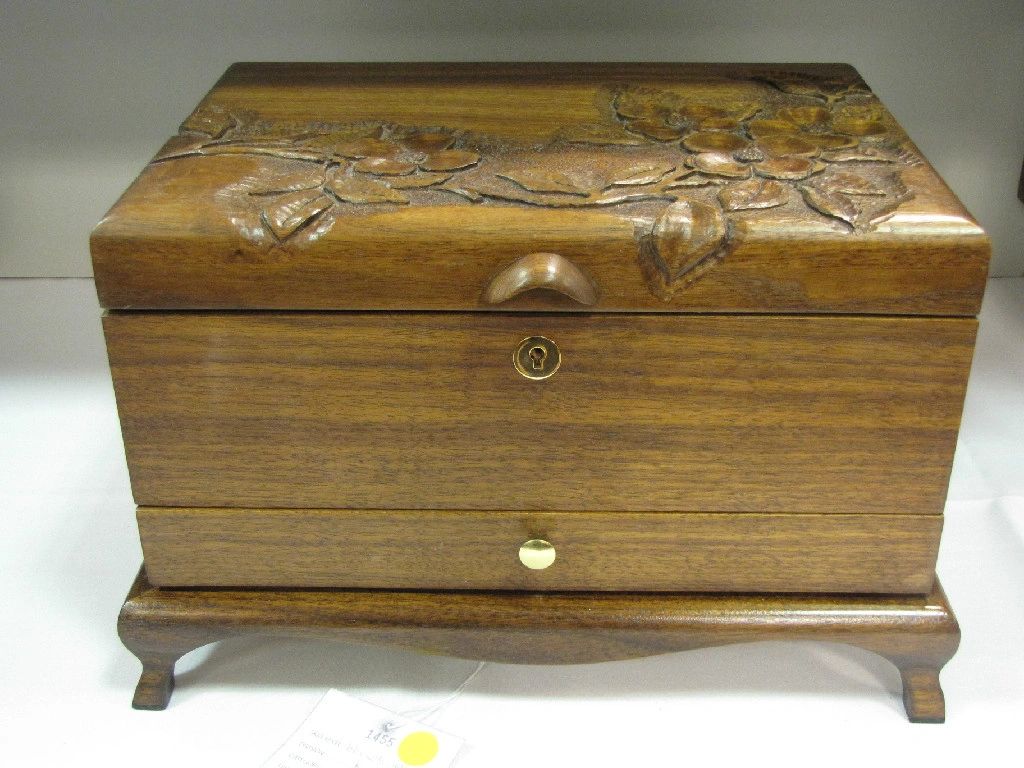 John Greener's Native American Rattle Carved box
Totem by Beck Beus Samurai by Eric Owens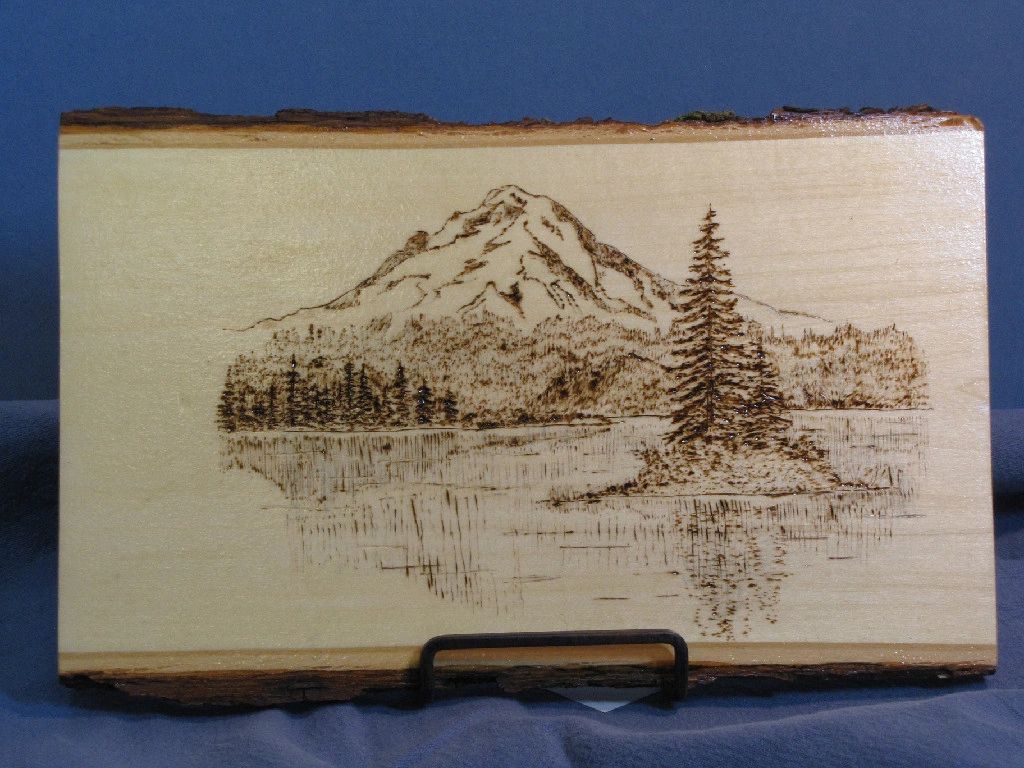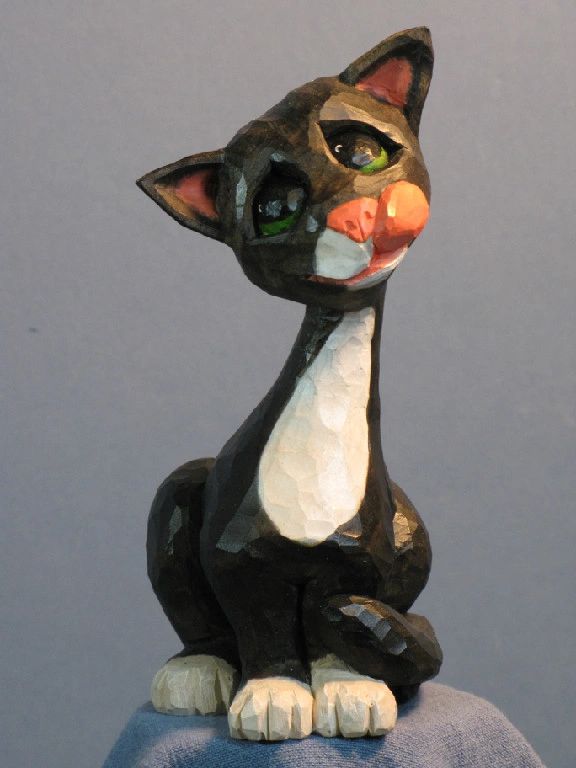 Woodburning by Eric Owens Cat by John Greener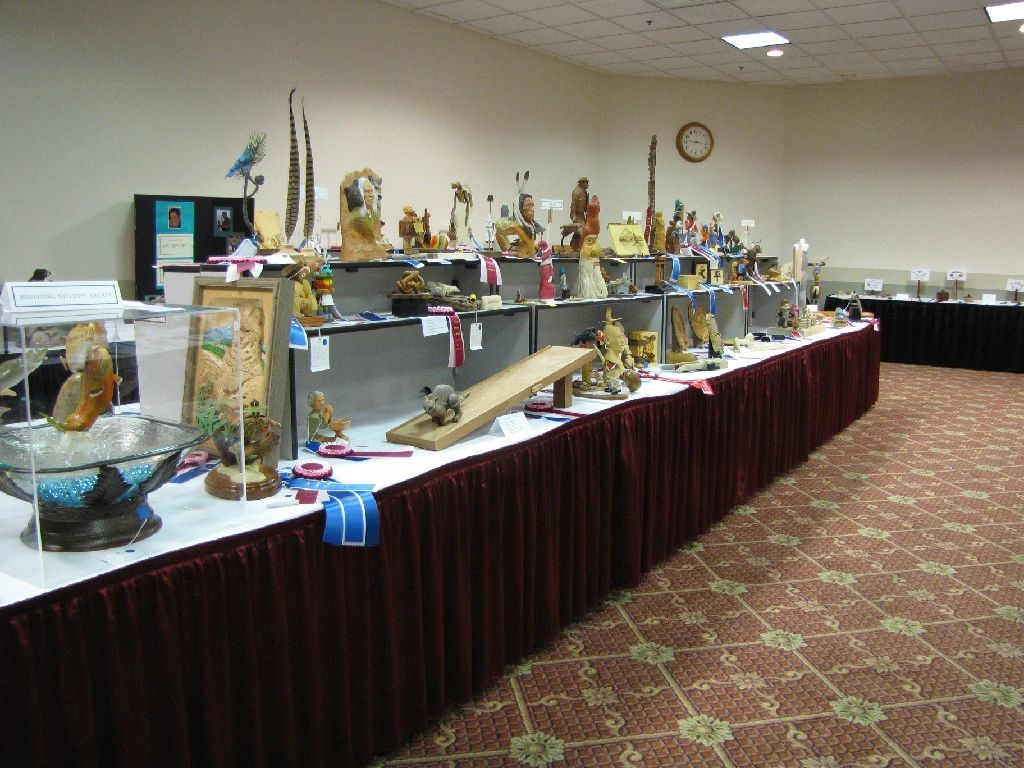 Display of entries Display of entries
Woodburnings
Woodburning by Carolyn Greener Native American Mask by Carolyn Greener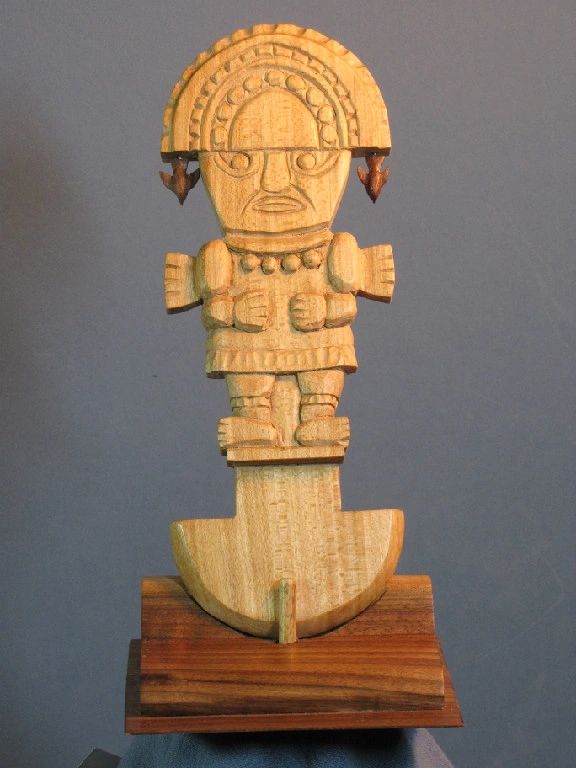 Sacrificial knife by Doug Rose Aquarium by Carolyn Greener
Two Wolves by Gene Fuller Feather carving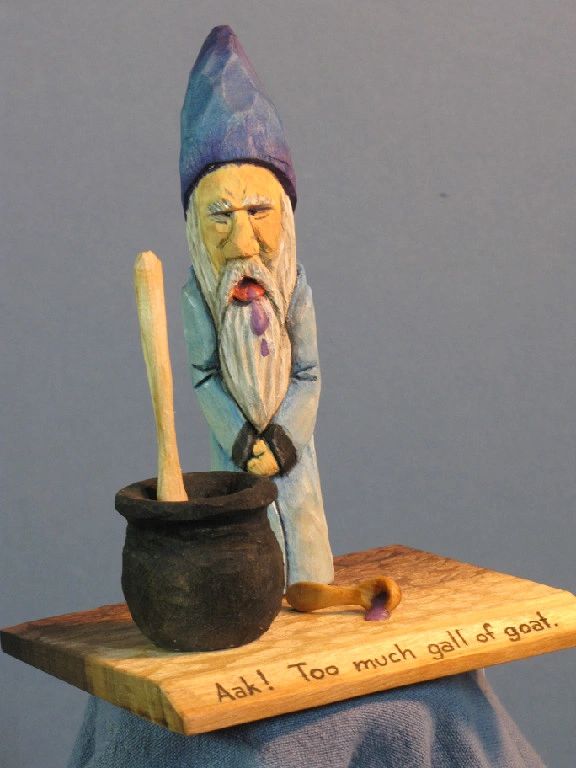 Caricature wizard by Doug Rose Bridge player by Gene Fuller
Norm and Eric demonstrating at the Western Idaho Fair.
The following pictures show the club display at ArtZone208, an artists gallery located at the corner of Ustick Road and Cole Road, behind the city library. These are carvings by Doug Rose, Gene Fuller, Beck Beus and Eric Owens.

COVID-19 Carvings

Grebes were carved by Ted Smith
Trout carvings by Tony Sciascia
Waterfowl and cardinal carved by Doug Rose